What is Aadhar Card Virtual ID
Have you heard about the new Virtual ID of Aadhar Card? Ever since the government has thought of taking a step to make the aadhar card more secure, nowadays everyone who sees it is talking only about this virtual ID of the aadhar card. But very few people have complete information about this Virtual ID.
Ever since the misuse of the information of Aadhar Card has started, there has been concern among the people about the safety of their Aadhar Card. Just to deal with this problem, the government has insisted on using Virtual ID. So if you do not want to share Aadhar number then you can use this 16 Digit As a better option, you can use Virtual ID for KYC.
According to the sources, the purpose of this new system is to reduce the cases of leakage and misuse of Aadhar number and with it our country's 119 crore It is also to promote the secrecy of people's identification numbers.
If you have information about it, then this is a very good thing, but if you do not have complete information about it, then there is nothing to panic because today we will get complete information about this new step of the government. .
Today we will know that after all this 16 digit Virtual Aadhar ID What is it and how can it keep Aadhar Card safe. Then without delay let's start.
What is Aadhar Card Virtual ID?
The Virtual ID will be a clone of Aadhaar containing information in a way. In which only some basic details of the user such as name, address and photo can be shared. No other person will be able to generate this Virtual ID through UIDAI website, aadhar app or aadhar center or center only.
Keep in mind that this ID can be generated more than once, but it will remain valid for a limited time only and the old one will become invalid as soon as the new code is generated. Another special thing about it is that it cannot be copied or duplicated, it is the claim of its creators.
UIDAI (Unique IDentification Authority of India) In a news released by the government, it has been said that recently associated with Aadhar. Many questions have been raised regarding the safety of the data. Keeping this thing in mind, to make the Aadhar system more strong, some such changes are being made in it which will prove to be effective in the future. According to a report, so far Aadhar cards of about 119 crore people have been made in our country.
Apart from this, it is being made mandatory in almost every place from school, bank, phone company, job (services) to aadhar card for further identification. 1 March The facility to create Virtual ID will start from June 1 and from June 1, Virtual ID will be used compulsary in place of Aadhar card in all institutions.
SOME HIGHLIGHTS OF VIRTUAL ID
With the help of this virtual ID of UIDAI, it will be easy for about 119 crore Aadhaar holders to generate this 16-digit temporary number.
We can easily and safely share this Temporary Number with our bank, insurance company or telecom service provider instead of Aadhar Card Number.
Officials say that by using this Virtual ID, it is not possible in favor of anyone to find the Aadhar Number of any other citizen. Using it makes the Aadhar Card even more secure.
Some Safety Features of Virtual ID
If we talk about some other safety features of Virtual ID, then limited sharing of information is important, where it has to be prevented from being misused of the data located in the Aadhar Card. Because this data is often stolen at places.
Talking about the current system, then five things were shared with the service provider during authentication, which is – name, date of birth, photo, address और mobile numberBut according to the current new system, information will be shared only about those things which are needed at the same time.
For example, if you want to get a new mobile connection, then you will only share necessary information like name, photo and address with your service provider. Due to this your data will not be misused.
Why Virtual ID has been introduced
Now the question arises that why this Virtual ID has been introduced? The simple answer to this is to make the Aadhar Card more secure.
Recently, the incident of leakage of Aadhar Cards details of many people had come to the fore. So the government has now been alerted by these incidents. Therefore, amidst the questions arising regarding the security of Aadhar Card, Unique IDentification Authority of India (UIDAI) or Unique Identification Authority of India (UIDAI) has taken a very big step to strengthen its security even more. In this direction, UIDAI has introduced a new concept named 'Virtual ID'.
Now it will not be mandatory for the citizens of our country to give their Aadhar Number to take advantage of various facilities of the government. Now Aadhar Card Holder UIDAI From the website, he will be able to create his own 16-digit Virtual ID, which he can give to various places like Banks, Government Offices, Government Schemes, Schools, Colleges, SIM Verification.
If I say in easy language, now we will not need to give our 12 digit Aadhar Number anymore.
When will the facility of Virtual ID be implemented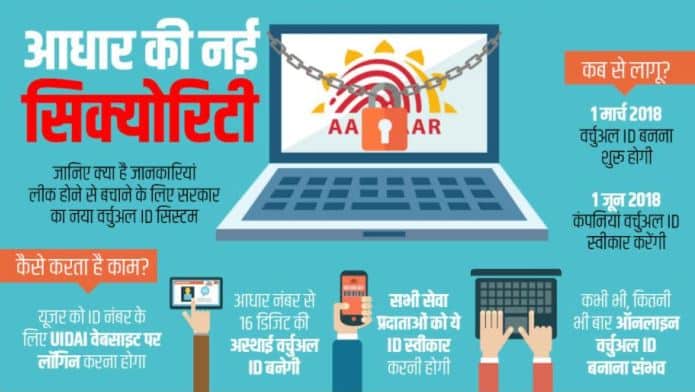 As per UIDAI 1 March 2018 The Virtual ID will be used from 1 June 2018 From this it will be made fully functional and it will also be made mandatory.
How safe is Virtual Aadhar ID
User can generate Virtual ID as many times as he wants. This ID will be valid only for some time, and as soon as the second ID is created, the first ID will become invalID.
UIDAI According to (UIDAI), this will be limited KYC. Agencies related to this will also not have excess of Aadhar details. These agencies also only Aadhar Virtual ID Based on this, all the work will be done. The system of virtual ID has been brought by UIDAI, under this, the user will be able to generate virtual ID as many times as he wants. But this ID will be valid only for some time.
Limited KYC facility is not for Aadhar users but for Agencies. Agencies take your aadhar details for KYC and store it. After the facility of Limited KYC, agencies will no longer be able to store your Aadhaar number.
Under this facility, agencies will be allowed to do their own KYC without relying on your Aadhaar number. Agencies will identify users through tokens. If the requirement of Aadhaar for KYC is reduced, then the number of agencies that will have your Aadhaar details will also decrease. Due to this, the misuse of the Aadhar details of the people will not be possible.
Agencies will be divided into two categories
UIDAI will divide all agencies into two categories. There will be one local and the other global category. Out of these, only agencies of the global will have an excess of eKYC with Aadhaar number. On the other hand, local agencies will get limited KYC facility.
What do the creators of Aadhar Virtual ID have to say
Former UIDAI chiefNandan Nilekani" tweeted on Wednesday and said that Aadhar has come here to stay. I am very happy that UIDAI has thought of measures like Virtual ID and Limited KYC so that the information of Aadhar Card can be kept more secure and safe.
UIDAI के CEO "Ajay Bhushan Pandey"Ji says that this is a historic step to keep the Aadhar Cards of our 119 crore people safe, this is such a unique innovation that you cannot see anywhere in the whole world and which can keep Aadhar more safe. .
An official says that a lot of time is being provided to the agencies so that they should update this new technology in their software as soon as possible so that people can easily use this new option.
Along with this, he has also said that the departments should tell us about the data of their need, which should be shared with them so that they can do their work properly and accordingly we will make our protocol.
What is the future of Aadhar Card Virtual ID
Virtual ID has been introduced by UIDAI to prevent misuse of the data of Aadhar Card. With this, people no longer need to share the number of their Aadhar Card, but instead they can use Virtual ID. With this their data will be safe.
The concept of Virtual ID has just come, now it is to be seen that to what extent this concept will be successful. It looks right from a distance, but its real test will be done only when the details of 119 crore people of our country are kept safe properly.
If the government continues to take similar new security measures from time to time, then to a great extent important documents like Aadhar Card can be saved from hackers.
what did you learn today
I hope you guys What is Aadhar Virtual ID Gave complete information about and I hope you people have understood about Virtual ID. I request all of you readers that you also share this information in your neighbourhood, relatives, your friends, so that there will be awareness among us and everyone will benefit a lot from it. I need your cooperation so that I can pass more new information to you guys.
It has always been my endeavor that I should always help my readers or readers from all sides, if you people have any doubts of any kind, then you can feel free to ask me.
I will definitely try to solve those doubts. How did you like this article Virtual Aadhar ID in Hindi, do tell us by writing a comment so that we too get a chance to learn something from your thoughts and improve something.